BEEP app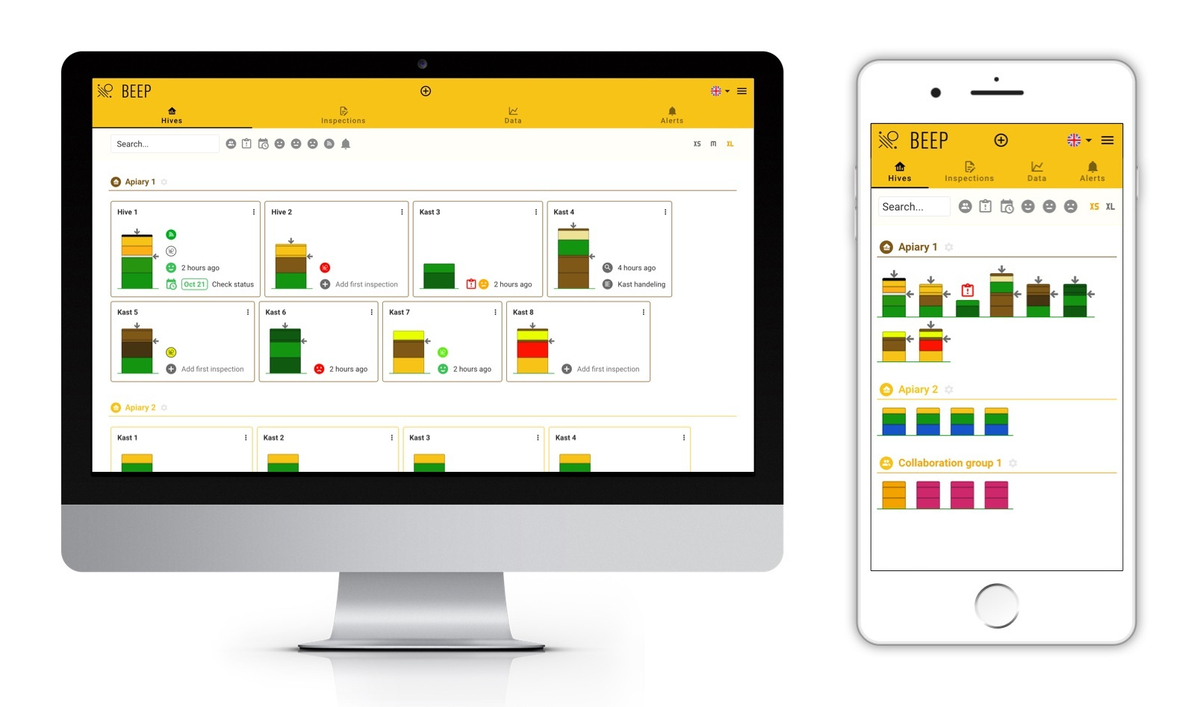 The free BEEP app is a digital registration system for beekeepers and researchers. It now provides a total overview of all apiaries and hives of a beekeeper. The apiaries and hives can be stored per location, including e.g. information about the queen. Specific checklists with the relevant inspection parts can be filled in and saved per hive or apiary. Notes and alerts show at a glance where extra attention is needed. You can also collaborate with other beekeepers by sharing the specific hives with others. This way you can keep track of your notes and alerts together. You can always consult and add information in the app, wherever you are. The BEEP web app can be used on a mobile phone, laptop, desktop computer or tablet.
The BEEP webapp contains a standardized bee data structure. It consists of data categories from both beekeeping practice and scientific research. For example, beekeepers can use the BEEP app to register the stressors that the colony has to deal with. Diseases and disorders are included in the data structure and their developments can be followed over time and space. The digital checklists are compiled based on categories and can be adapted to the wishes of the individual beekeeper or the research institute. Thanks to this registration method, the data can be systematically collected and used for scientific research. It is important to mention that BEEP takes privacy very seriously. Data may only be used for research if the beekeeper has given explicit permission.
---
Sneak peek

Above: Organise your hives in apiaries and select the action your want to perform in the BEEP app.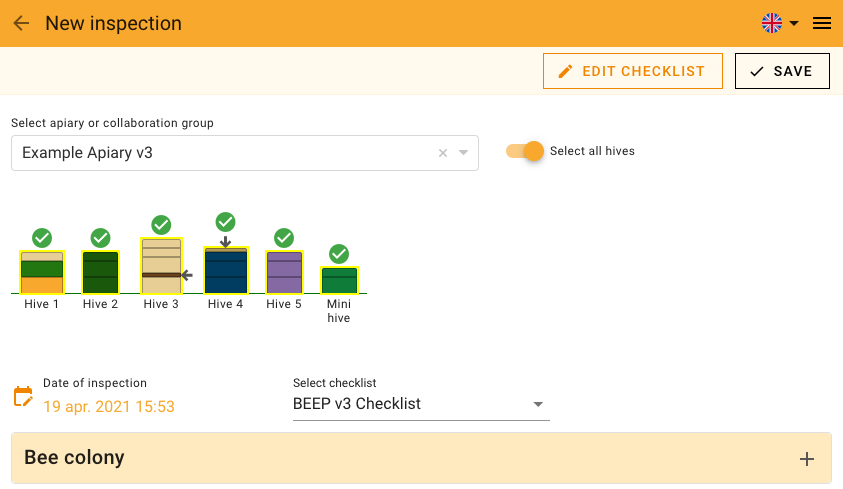 Above: When entering an inspection you can choose to select all hives and enter identical inspection data for all at once i.e. bulk inspection. Inspections can always be edited later. 'Edit checklist' allows you to select checklist items from a standardised and tested list of categories for ease of use and (if applicable and approved by the beekeepers) for data analyse by a research institute. 
What can you do with the app?
Register as a new BEEP app user for free. After that, you are ready to go and create your first apiary. A selection of the features:
Create multiple apiaries
Manage your hives in detail (multi color, queen excluder, feeding box)
Keep track of queens
Create your own inspection checklist using a list of pre-defined categories
Search & filter apiaries, hives and inspections
Create bulk inspections
Cooperate with other beekeepers
View your inspection data
Download your data
With a BEEP base, see measurement data per hive and set alert rules
And more, see BEEP app version 3 support documentation
The app is available in the following languages, among others, more languages are visible in the app:
---
For whom?
The BEEP app is free to use for everybody. Our current users are both professional as hobby beekeepers, researchers and schools. Would you like to use BEEP for your (research) project? Contact us for more information about the possibilities.