BEEP base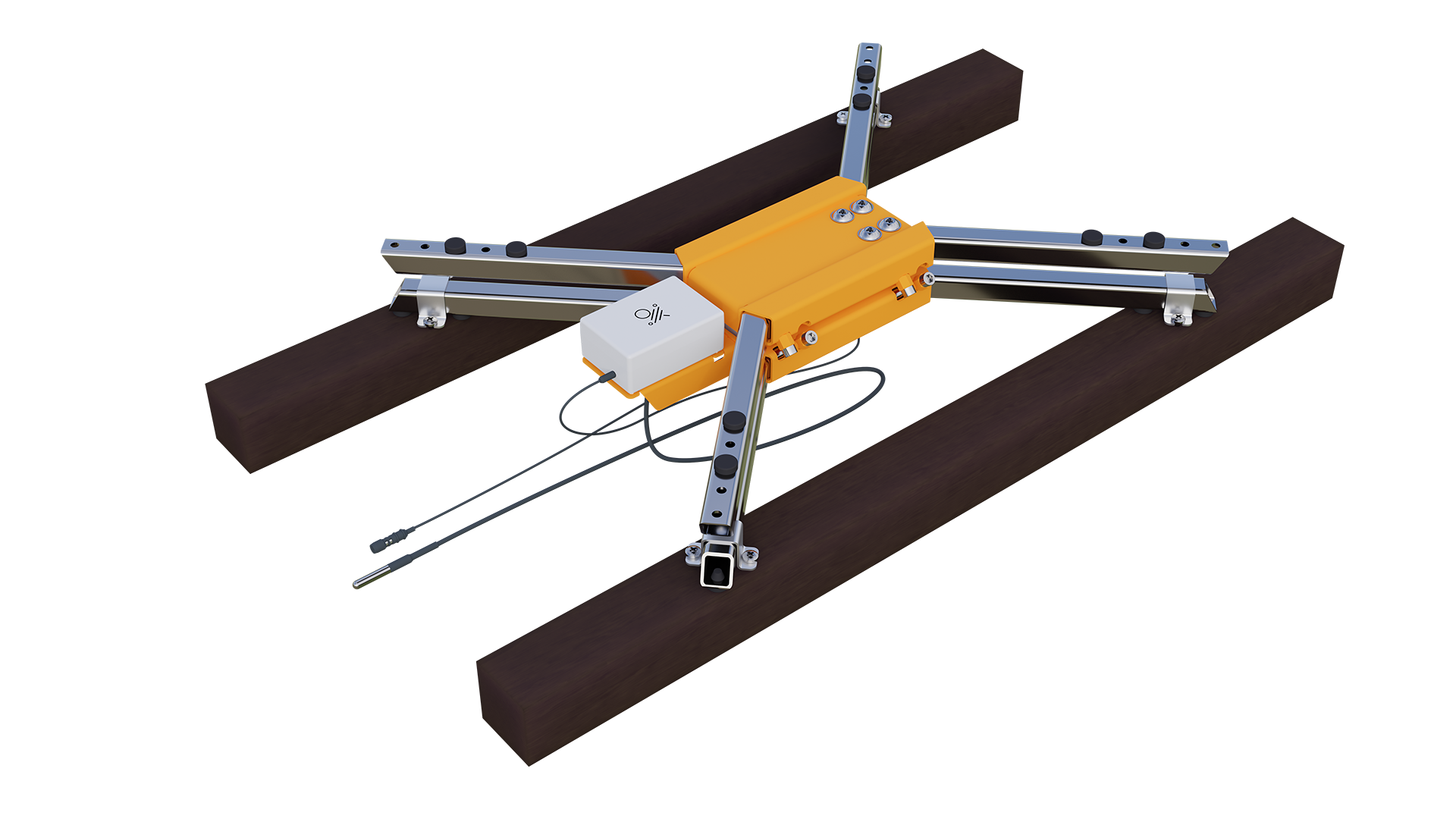 The BEEP base is a smart scale that you can place under your hive. It measures the weight and other parameters such as temperature and sound in the hive. The data is sent wirelessly to the free Beep app, in which you can also keep track of your bee hive inspections.
Beep base available from November 9th at Kickstarter
Automatic monitoring - the BEEP base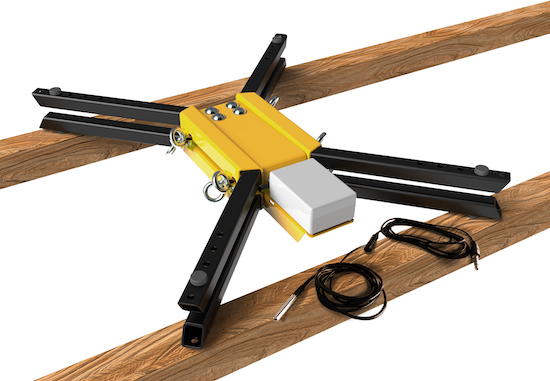 Over the past two years the BEEP base has been in development. After lots of tests and improvements it is ready to go into production. When you receive the BEEP base you put it under your hive, you register in the app and the measurements can begin!
The BEEP base consists of a weight sensor, supports one to five temperature sensors and records high quality sound from within the hive. The frame of the BEEP base is made of high-quality stainless steel and will last for more than 10 years. By way of the low emission LoRa network, the data is sent to your BEEP app and is accessible through your devices. The whole system is so energy efficient that it can send out over a year of measurements on just 2 AAA batteries. With its 64 MB of memory the BEEP base can store two years worth of information, which is useful if you do not have access to a LoRa network in your neighborhood. Do you want a short break? Just turn the BEEP base in an upward position and it turns off automatically.  
The BEEP base is affordable, sustainable, easy to use and there are no recurring costs. BEEP makes digital tools to improve beekeeping affordable for everyone. For more information on the technical details, 
click here
.
The weight of the beehive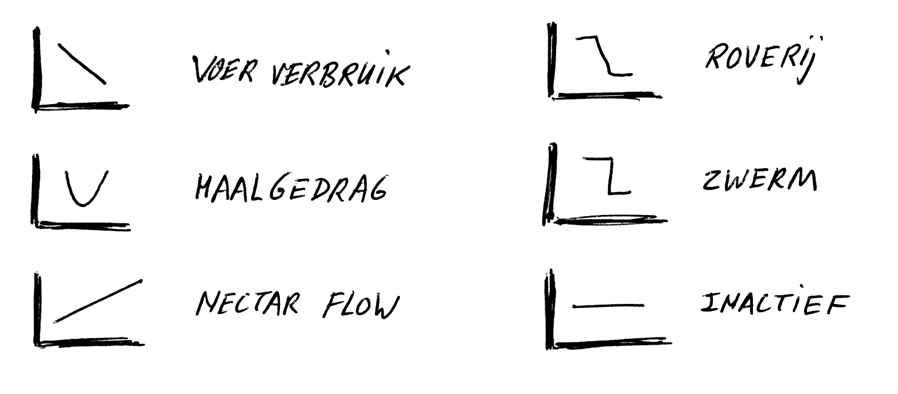 The change in weight of the beehive gives you the opportunity to monitor what is going on in the beehive. As depicted below, the different graphs suggest different situations. Weight is an indication on the nectar flow and includes retrieval behaviour, consumption and honey production. A higher weight can mean that the bees are on top of their honey production, a lower weight could mean it is time to feed your bees a little extra. Extreme decreases can be signals of robbery or a swarm.
Warnings in the app let you know when the bees need extra care and attention. At the same time, you save time because you do not have to go to the hive to know how your bees are doing, and the bees are less disturbed by you peeking into their home.
Temperature measurements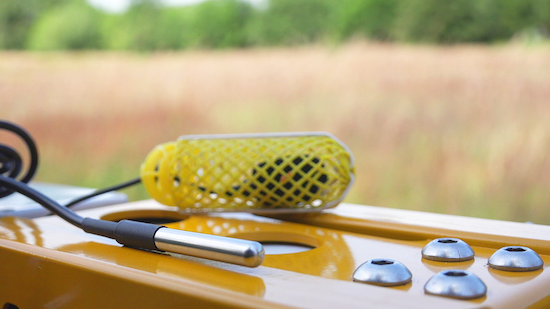 The temperature measurements tell you more about the state of the brood in your hive. It gives you the opportunity to signal the existence of a brood nest, its size and how it is changing over time. Whenever the brood temperature drops from a steady 35 degrees Celsius, the brood cycle is interrupted. It could be that the Queen Bee is no longer laying her eggs. The more thermometers, the more accurate your measurements. Do you find it more fascinating to know what the temperature variations are at other places in or outside the hive? You have the capacity to place the temperature sensors at those places most interesting to you.
What is that buzz about?
A few things are already known about the measurement of different bee-specific frequencies (e.g. the apidator of E.F. Woods from 1964). All over the world people are working to learn what the sound of a bee population says about their status. BEEP expects that future beekeepers can receive sound-based warnings about swarming, diseases and other distress factors. BEEP, in collaboration with partners, researches sound measurements in hives. New information about sound will be translated to warnings or instructions that the beekeeper can act upon. Software developments based on the project are automatically updated to your BEEP measurement system. With an eye on the future, the BEEP base is already equipped with a high-quality sound analysis chip and microphone.
Hive inspection app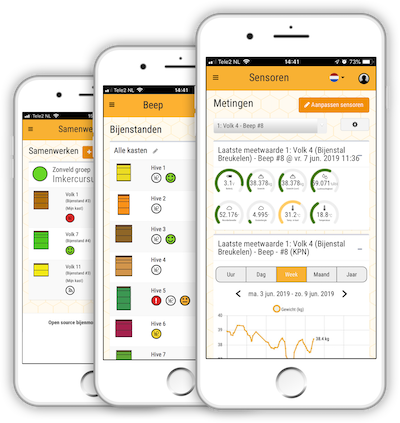 The free hive inspection app is available for everyone and is a good first step to digitize your inspection sheets. You can customise the set-up and the categories you consider important for your administration. This enables you to register your observations and actions in the way in which you usually work. Over 2300 beekeepers have registered in the app. You can now also share your inspection sheets with other beekeepers that you are collaborating with. Do you want to go one step further? Pair your BEEP base with your app and have real time insights on the status of your bee population.
Collaboration with science
The BEEP base and app are also used for research. New software updates are automatically available for personal use. If you give explicit permission, you can make your data available for research.
Open source measurement system
Developing a good and affordable measurement system is not an easy job to do. Fortunately, BEEP is not the only organization working towards this goal. Multiple individuals and organizations are working and improving the open source software and hardware designs of bee measurement systems. Open source does not mean that your inspection and measurement data will be shared, the beekeeper has ownership over his or her own data.
BEEP is funded by public goods and shares newly developed code under an open source license. Are you a developer, electro technician or do you just like to tinker with your BEEP equipment? Take up the challenge and set up the systems according to your own preference and contribute to further development! You can find more information about the technical details
here
.
The BEEP foundation
BEEP aims to modernise beekeeping through open collaboration and is mission-driven and non-profit. Beekeeper and technologist Marten Schoonman and product developer Pim van Gennip are managing the foundation and five specialists support them. The supervisory board members are Frens Pries, Koos Biesmeijer and Nadine Schalk.