Your complete measurement system that tells you all about the weight, sound and temperature of your honey bees. Directly visible in the free to use BEEP app! 
The BEEP base is affordable, sustainable, easy to use and there are no recurring costs. BEEP makes digital tools to improve beekeeping, that are affordable for everyone.  
So what's in the box?
In the video below you will see Stephan unboxing and assembling the 'BEEP base complete'. It comes in small box containing the complete system. When opening the box you will see the yellow metal parts which contain the weight sensor. The PCB (printed circuit board) is fixed in the waterproof box and connected to the weight sensor and temperature sensor. 
You only need to assemble the 8 'legs' with 8 bolts and the provided tool. Optionally you can connect the microphone.  
Connect the BEEP base to your BEEP app
If you already have an account on the free to use BEEP app (see
https://beep.nl/home-english
), you can see below how you can connect your new BEEP base to your BEEP account. If you don't have a BEEP app account yet, just create one at
https://app.beep.nl
.

Bring beekeeping to the next level 
Have you ever looked inside a beehive? There are thousands of bees moving around. Some scout up to 3 kilometres out to collect food, others stay in and look after the larvae. The queen bee is responsible for reproduction and workers cater for her every need. Watchers stand guard at the gate and make sure no enemy gets in. In this wonderworld of bees, everybody has her job to make sure the population thrives.
Then the beekeeper arrives. He or she has the best intentions of taking care of the hive. Yet, it is almost impossible to not disturb the bees whilst doing so. It involves using smoke to calm the bees, opening the hive and moving frames around. The beekeeper registers the actions and observations on a piece of paper weathered by use.
Imagine a different way of beekeeping. One in which the bees are not disturbed as often. Where the beekeeper is better informed about the care a colony needs. A world in which the beekeeper can just open an app and see exactly what the status of the honeybee colony is. A digital place to register their observations and actions.  
That is where BEEP kicks in. BEEP supports beekeepers with the care of the bee populations through the BEEP base and BEEP app.
How does it work?
You place the BEEP base under your bee hive and connect it to the LoRa network - we will explain more about LoRa a little later on. It measures weight, temperature in the hive, and sound. The BEEP base sends this information to the free BEEP app. You can access the information on your phone, computer or tablet and supplement it with your own inspection data. There it is; a complete overview of the status of your bees. 
The weight of the beehive
The change in weight of the beehive can give you great insights. As depicted, the different graphs suggest different situations. Weight is an indication of the nectar flow and includes retrieval behaviour, consumption and honey production. A higher weight can mean that the bees are on top of their honey production, a lower weight could mean it is time to feed your bees a little extra. Extreme decreases can be signals of robbery or a swarm.
Warnings in the app let you know when the bees need extra care and attention. Additionally, you save time because you do not have to go to the hive to know how your bees are doing, and the bees are less disturbed by you peeking into their home.
Temperature measurements
The temperature measurements inside your hive tell you a lot about the state of the brood in your hive. It gives you the opportunity to signal the existence of a brood nest, its size and how it is changing over time. Whenever the brood temperature drops from a steady 35 degrees Celsius, the brood cycle is interrupted. It could be that the queen bee is no longer laying her eggs. The more thermometers you add to your BEEP base, the more accurate your measurements. Do you find it fascinating to know what the temperature variations are at other places in or outside the hive? Place the temperature sensors at those places most interesting to you.
What is that buzz about?
A few things are already known about the measurement of different bee-specific frequencies (e.g. the apidator of E.F. Woods from 1964). Worldwide, people are working to learn what the sound of a bee population says about their status. BEEP expects that future beekeepers can receive sound-based warnings about swarming, diseases and other distress factors. BEEP, in collaboration with partners, researches sound measurements in hives. New information about sound will be translated to warnings or instructions that the beekeeper can act upon. Software developments based on the project are automatically updated to your BEEP measurement system. With an eye on the future, the BEEP base is already equipped with a high-quality sound analysis chip and microphone.
The BEEP app
The BEEP app gives you real time access to the data from the BEEP base. The free hive inspection app is available for everyone. Next to showing your BEEP base data, the free to use BEEP app can be used to digitize your hive inspection sheets and collaborate with other beekeepers. It works on any computer, tablet and smartphone. You can customise the set-up and the inspection categories you consider important to create your own bee logbook. This enables you to register your bee colony observations and actions in the way you usually work. The app is available in seven languages and over 2300 beekeepers use it! 
The BEEP base - technical specifications
The BEEP base consists of a very accurate weight sensor, supports up to five temperature sensors and records sound from within the hive. The standard BEEP base that is available here comes with one temperature sensor and one microphone. You can choose to update it with for example a second temperature sensor of microphone. The frame of the BEEP base is made of high-quality stainless steel and will last for more than 10 years. By way of the low emission LoRa network, the data is sent to your BEEP app and is accessible through your devices. The whole system is so energy efficient that it can send out over a year of measurements on just 2 AAA batteries. With its 64 MB of memory the BEEP base can store two years of sensor information, which is useful if you do not have access to a LoRa network in your neighborhood. Do you want a short break? Just turn the BEEP base in an upward position and it turns off automatically.
The BEEP base is easy to assemble and dis-assemble. It comes with all yellow parts assembled to the weight sensor and the temperature sensor already connected to the PCB inside the weatherproof box.
At the heart of the BEEP base is the PCB. This printed circuit board contains all connections for the sensors that are included in the BEEP base - temperature, sound, weight - and offers space for more. So, if you would like to customise your BEEP base you can!
This custom designed printed circuit board (PCB) has an ultra low power usage. It is based on the Nordic nRF 52840 64 MHz ARM®️ CortexTM-M4. It can collect data every 15 minutes for over 1 year on 2 AAA batteries! In sleep it uses only 4,5 μA. With its 64 MB of memory the BEEP base can store two years of sensor information. Furthermore it has: over the air firmware updates (BLE), LoRa RFM95 868 MHz (EU) with uFL SMT antenna with wireless configuration, 1Wire 1-5x sensor (DS18b20), I2C screw terminals, 2 channel weight amp (HX711) screw terminals, a low power 3V regulator, unique hardware key IC, magnetic reed switch, tilt switch, buzzer, 2x AAA battery holder and, last but not least, audio ADC (92 dBA SNR) + AGC with 3.5 mm jack input with 4 pins. Size: 75x50x23mm. 
LoRa is an energy efficient way of transferring information. You can think about it as if your BEEP base sends out text messages consisting of a few numbers. Your BEEP app receives these numbers and translates them to information that is understandable for you. You receive the information through the gateways of TTN (The Things Network), like small transmission towers, and the internet.
The energy usage is low because the BEEP base turns on every 15 minutes for 2 seconds to send information. That is why you can operate the BEEP base for over a year on just 2 AAA batteries.
Our preferred network is the TTN network since you can use it for free and there are no recurring costs. In case there is no gateway close to your BEEP base you can buy one from 90 euros. 
Open source measurement system
Developing a good and affordable measurement system is not an easy job to do. Fortunately, BEEP is not the only organization working towards this goal. Multiple individuals and organizations are working and improving the open source software and hardware designs of bee measurement systems. This means that the designs of both hardware and software are openly available to everybody to use and improve. Open source does not mean that your inspection and measurement data will be shared, the beekeeper holds ownership over his or her own data.
Collaboration with science
The BEEP base and app are also used for research. New software updates as results from our research work are automatically available for your personal use. You can make your own data also available for research when you give explicit permission.
We collaborate with other open source providers such as Hiveeyes, Beelogger and Easyhive. We share knowledge, experience, code and designs. BEEP has iterated - supported by subsidies - from version 1 to version 2. Various experienced beekeepers have tested version 2 of the BEEP base. Based on their feedback BEEP base version 3 is ready to use for you! 
Installation and use is simple. When you receive the BEEP base you assemble it, place it under your hive, register in the app and the measurements can begin! 
Meet the team
It all started when Marten became a beekeeper. The love for honey resulted in what became quite an expansive journey into the wonderful world of bees. He learned all about beekeeping in a course and became more and more fascinated. Writing the bee observations and actions down on a piece of paper that you put away in the hive seemed outdated. Searching the web, he found some tools. Yet, it was not what he was looking for. Marten joined forces with Pim, via a post on beekeeping on a forum on sensors. They met up, gathered a group around them and  founded the BEEP Foundation. 
The initiative grew slowly but surely over the past years. BEEP app v1 was released in 2017, version 2 in 2018. End of 2019 the BEEP base version 3 was funded by 204 people with a total pledged amount of €96,364 in this Kickstarter campaign.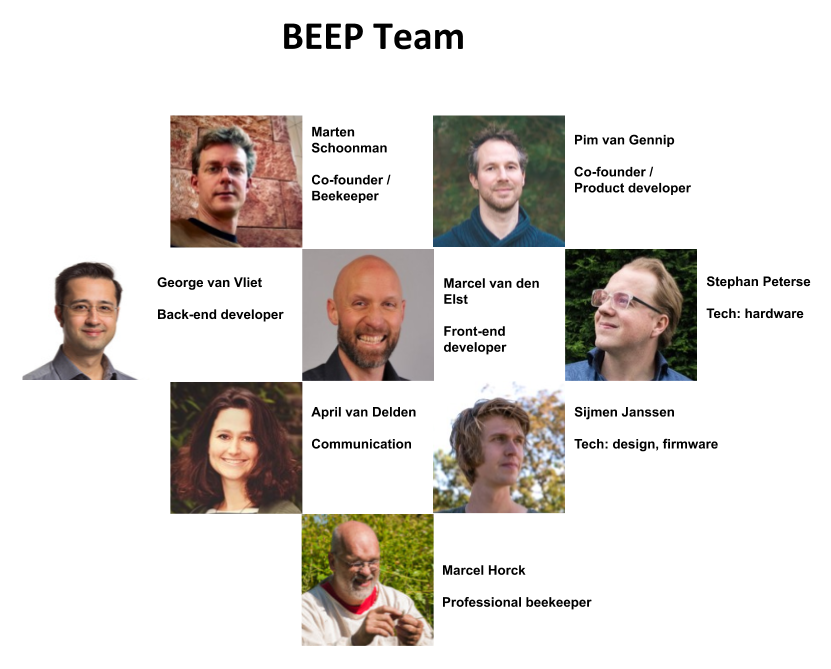 The complete BEEP team.